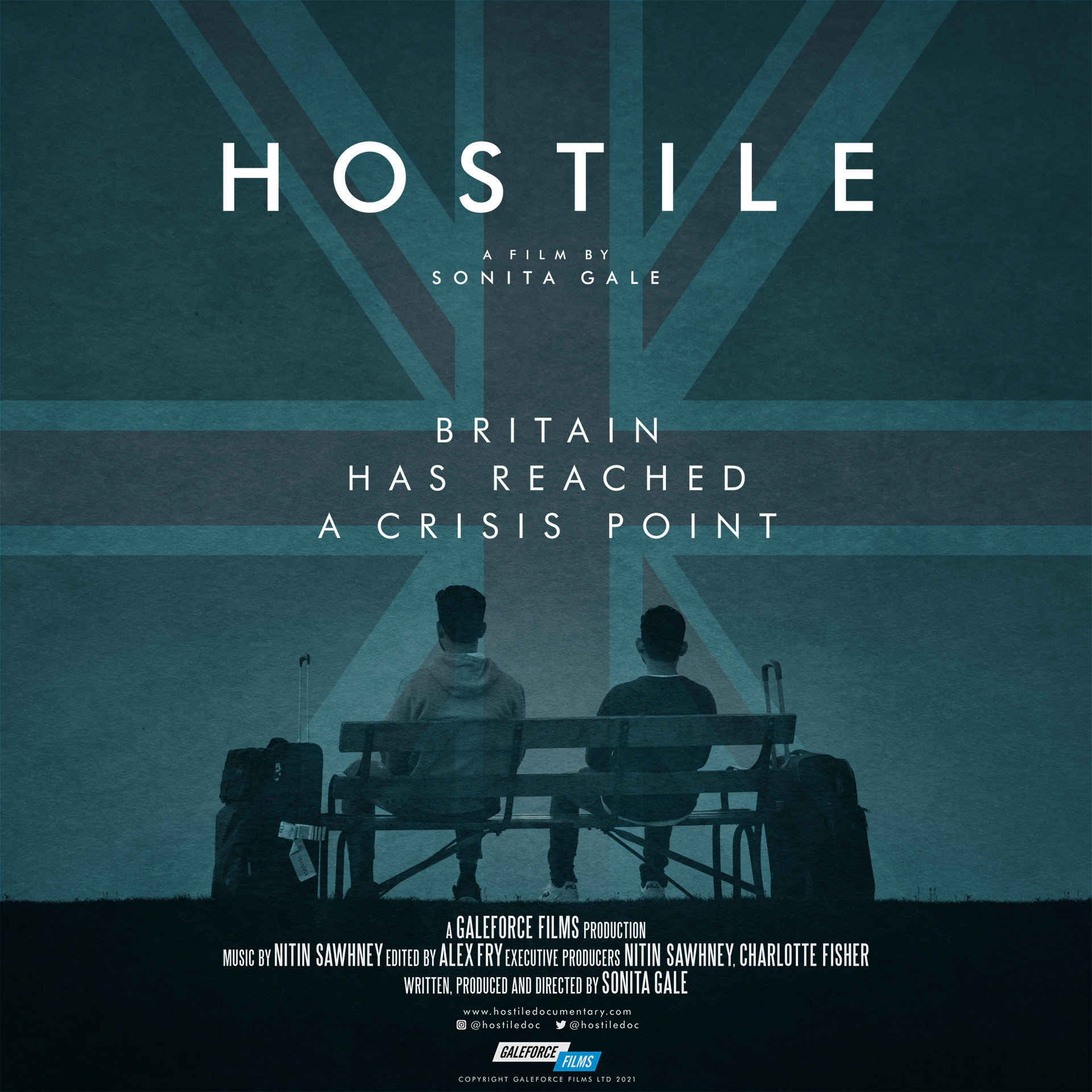 Alex Fry and 'Hostile': crafting a powerful call to action.
Edited by Alex Fry, feature length documentary 'Hostile' is currently enjoying a successful UK cinema tour – including Picturehouse, Bertha Dochouse and Curzon venues!

The film unveils the 'hostile environment' created in the UK by our government, with the intention of provoking migrants to leave the country of their own accord.  A timely and important film, it's the directing debut of writer and producer Sonita Gale of Galeforce Films.
'Hostile' was longlisted for the BAFTA Outstanding Debut by a British Writer, Director or Producer and three British Independent Film Awards and selected for Raindance.  It also won the Best Documentary Feature award at the 2021 South London Film Festival.

Editor Alex, who is particularly drawn to projects which shine a light on difficult or unseen stories, has kindly provided some insights for us – such as what attracted him to 'Hostile' and how he approached crafting the documentary with Sonita.
"Hostile arrived serendipitously, at an interesting moment in my career. The film continued a loose theme for me, the global post Brexit, post Trump populist slide into far right intolerance. I had made a film about Nigel Farage the year before and a series about hate crime in the US prior to that, so I felt well equipped and really keen to take on a project exploring the Hostile environment. Ambitious political feature docs don't come around that often.

For the first few weeks of exploratory editing, we were deep in the third lockdown, so hadn't met which was quite strange. I was provided with a 2.5 hour interview assembly of the film as a starting point. We'd then have lengthy video calls and do the best we could working remotely. But so much of the process, for me, is watching the rushes together and sparking conversations about ideas and directions the film might take. Whereas in this case I dived straight into cutting sequences with no real working knowledge of the rushes.

Communication and relationships are everything for me in an edit.  We decided to start working at my small flat together as lockdown was lifting. Sonita would come over with wonderful curries for lunch, we got to know each other and cut the film. It really started to bloom at this point. But there were so many ideas and themes it was still very unwieldy. Finding a strong line through the material meant some really hard decisions, and at times it was emotional.  You get to understand the deep historical roots of the political climate we live in today through the story of Sonita's mother.

The amount of time we spent talking and exploring ultimately bound it together very strongly. The depth of Sonita's research was impressive, quite often she would write an essay on a particular subject to try and get to grips with it, I'd read it and then we'd talk about how this could become part of the language of the film, which was not always obvious! I'm particularly proud of the Empire section which leads you back into post Brexit Britain; the way we articulated that flow of thoughts resulted in something unexpectedly powerful in the end, that we'll only move forward as a country when we fully understand and learn from the deep pain we've inflicted on other peoples over centuries. Instead we are busy hawkishly re-animating some grotesque mythical fantasy about ourselves.

I'm really pleased that the film has found a home at Picture House, has been recognised by BAFTA and long listed, and that the plight of those brave enough to tell their stories is finally being heard."
Published on 25/02/2022